Principal's Desk
"The woods are lovely, dark and deep,
But I have promises to keep,
and miles to go before I sleep,
and miles to go before I sleep."
Dear All,
Greetings from Garda College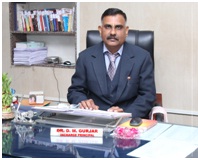 S. B. Garda College, Navsari, one of the oldest educational institutions of the South Gujarat region, was established in 1945. In 1965 Commerce faculty was added to cater to the needs of the developing society in industrial area. With great pride we record that during the last 75 years of its history the college has contributed to the society by producing eminent personalities belonging to various fields like the college principals, professors, lecturers, school teachers, industrialists, writers, editors, journalists, M.L.A.'s, M.P.'s and many more other professionals who are serving the society by bringing glory to their Alma Mater.
The emblem of the college " Excelsior" is the status insignia of the institution. It not only represents the high vision and foresightedness of its founders but also spells out its motto Excelsior that denotes excellence and constant higher and higher advancement in all spheres of life.
The purpose of Education is not only to inform and train the mind but also to make an all –round development of personality and lead to physical, mental, intellectual, emotional and spiritual growth. In SBGC, we uphold traditional values and at the same time adopt contemporary infrastructure and pedagogies.. The College nurtures and offers a unique space for social transformation and is committed to enlighten students to go together and shape minds to think critically and analytically. SBGC aims to provide its students a conducive environment, which leads them to their holistic development.
I invite and welcome all prospective students to explore their hidden potentialities by joining this prestigious institution. Our entire team is competent and ready to take up new challenges and to accomplish the motto of our pioneers: "Excelsior".
With Warm Regards,
Dr. Dharmvir M. Gurjar
I/C Principal,
S. B. Garda College, Navsari.